Graphic Patterned Tiles
Tiles are the perfect accent in a room, be it on the floor or the wall! As the popularity of patterned tiles continues to surge, be sure to include this trend in your upcoming bathroom transformation. Patterned tiles work as a great splashback in small space bathrooms as well as full wall features in large-scale bathroom projects. This style offers homeowners the opportunity to tap into their creative side!  Right now we mainly see ceramic tiles as a popular choice for patterned tiles, however, porcelain styles are an upcoming patterned tile concept. This year, expect to see a range of bright and bold colours and patterns!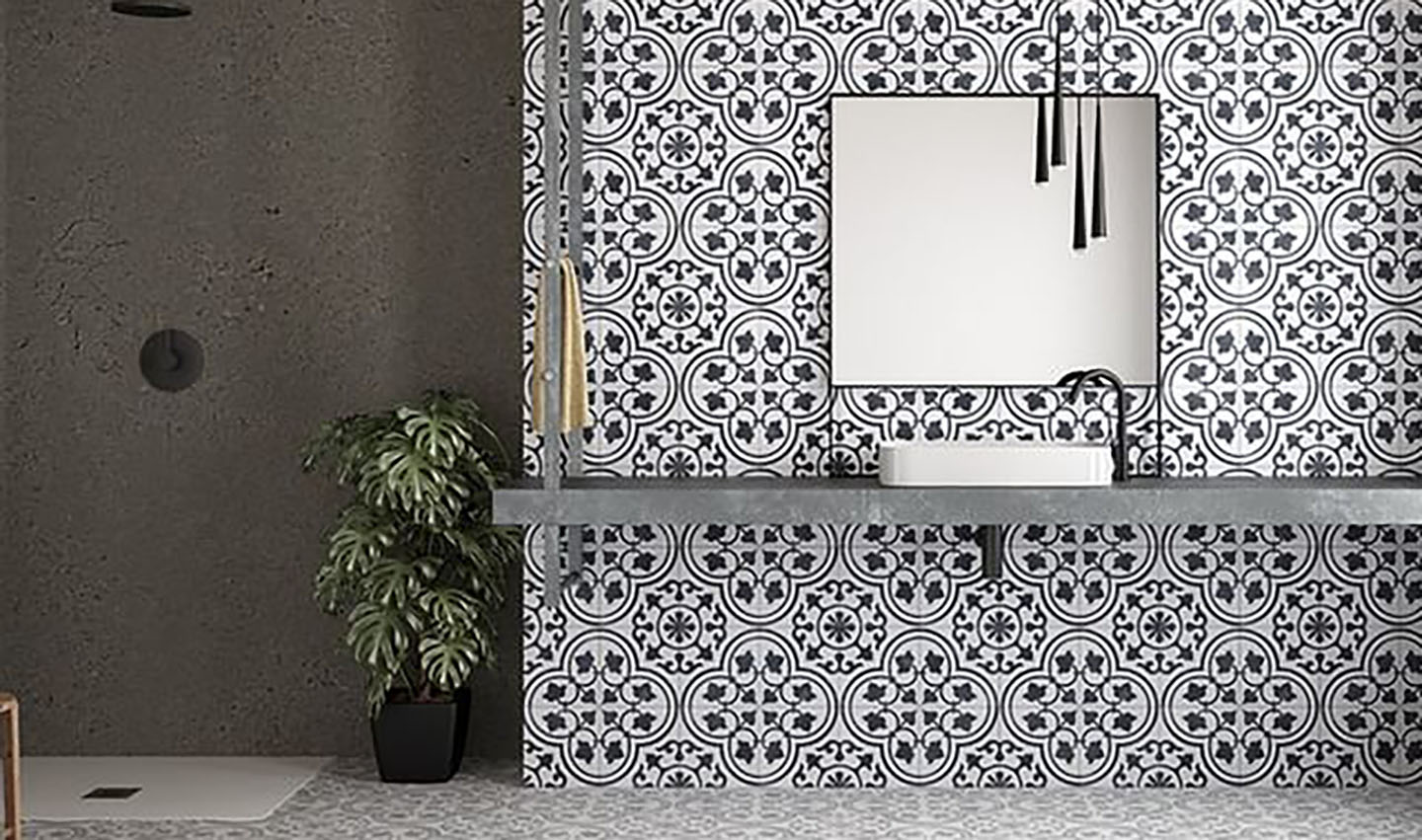 Matte Finish Tiles 
Matte finish tiles are here to stay! Not only are they much easier to keep clean, but their subtle beauty and texture make them the perfect addition to a bathroom floor or walls – however, be sure that there is sufficient natural light in this area if adding matte finish tiles as they do not reflect light. For unspoken sophistication, if you are looking for understated elegance, go for matte finishing tiles.
Neutral Tiles 
Many contemporary homes include the use of neutral colour palettes, particularly white. In the past number of years, grey and beige have become very popular, now known as 'Greige' (somewhere in between grey and beige).
White is the perfect colour choice in a bathroom that needs a little more luminosity. The bathroom is designed for relaxation and so too are these colours. They are neutral so that the mind can remain calm and relaxed, creating a sanctuary in the home- from the floor to the ceiling, you can use these colours. In order to make sure that the bathroom does not become lifeless, the colours, textures, shapes and/or finishes of the layer are neutral, to bring the room together!
Large Format Tiles
The huge selections of tile options continue to grow year on year with more innovative design and styles available. Large-format tiles are a growing trend, particularly amongst self-build projects.
Large-format tiles are the perfect choice for 'front door to back door' tiling. The opportunities are endless, large format can even replace shower walls or splashback.
Subway/ Metro Tiles 
Some may think that subway tiles are boring, however, it is all about the placement and grouting with this simple tile design. With many different variations of the standard subway tile, today we see long and thin versions of the traditional style. Paired with a contrasting grout colour, subway tiles can make a huge impact on any bathroom design. Why not try stacking the tiles a little out of the ordinary?