Are you looking for small bathroom design ideas? With the right knowledge, a small bathroom can be stylish, functional, and space-efficient.
Many of us can only fantasise about having a large bathroom – a free-standing bath in the middle of the room, complete with a roaring fire and plush armchair, is on everyone's wish list, right? However, we believe that small bathrooms can be just as beautiful!
When you use a few clever tricks of the trade, a small room doesn't have to look cluttered or feel cramped. Even if you just have a shower room to work with, your small bathroom will quickly become stylish and sophisticated. With a few space-saving tips and a splash of beautiful accessories and textiles, even the smallest of bathrooms can be transformed into an enviable space in minutes. We'll show you how to design the bathroom of your dreams in a small space.
6 Top Tips for Styling a Small Space Bathroom 
1. Use glass to your advantage.
In a small bathroom, a walk-in shower with frameless panels appears to be barely there, adding to the illusion of space. Consider, white marble tiles for your walls, adding a touch of glitz to the limited space without being overpowering.
2. Wall-mounted taps 
Since the pipework can be covered without the use of a bulky basin pedestal, wall-mounted taps are ideal for small bathroom designs, allowing you to make full use of the space!
3. Create the illusion of height with paint
To build the illusion of height, paint halfway up a wall. You may create a gap from the upper portion of the wall by lowering the eye with a darker paint tone. The room would lack dimension if the walls were all the same colour. This clever but easy paint trick is an excellent way to make a small space look larger than it is.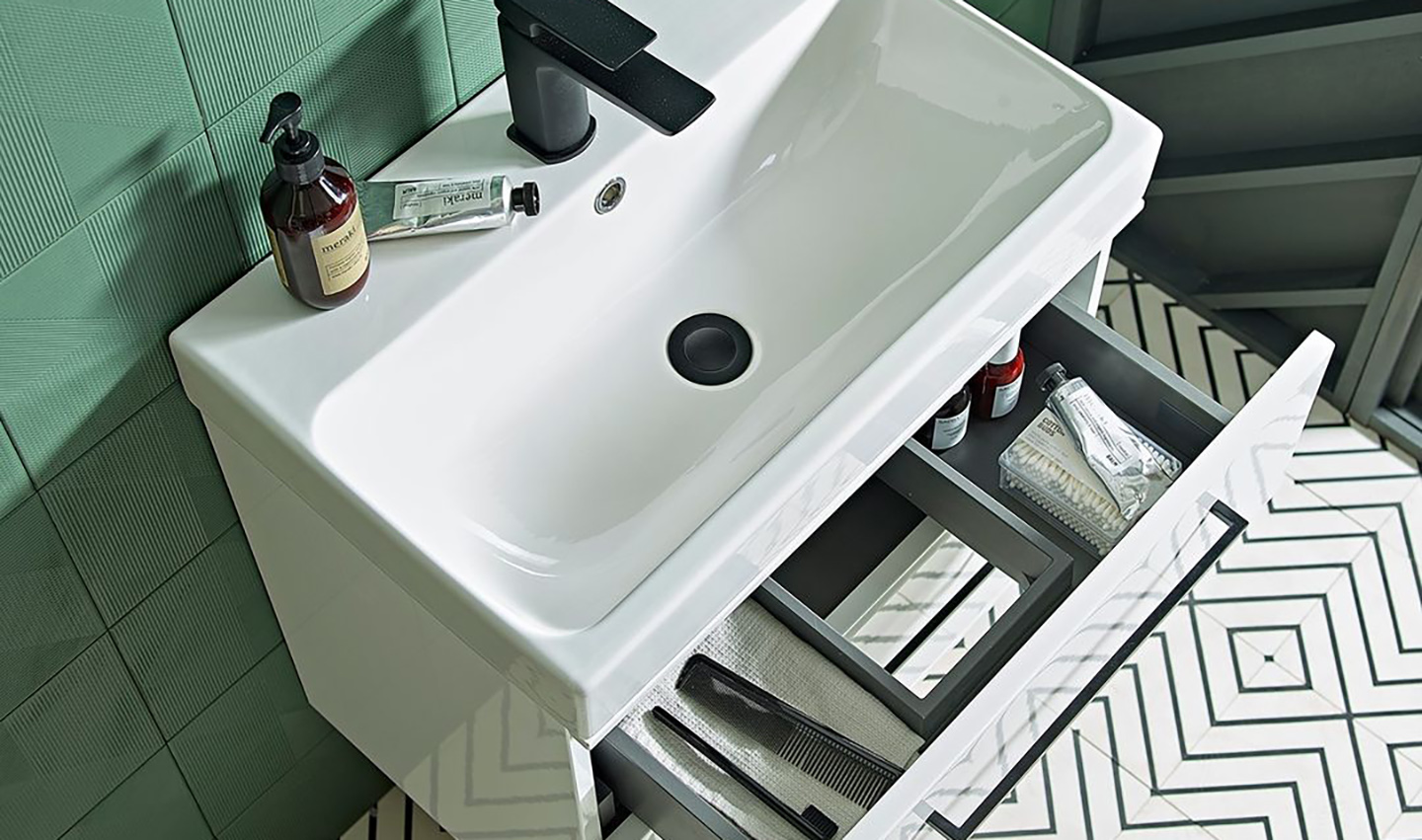 4. Add a Wall Mounted Floating Unit
The fuss-free and streamlined look of wall mounted furnishings remains one of our favourites at Bassetts. This means you can create furniture that suits your space in a variety of heights, widths, and depths.
A variety of colours, from soft tones to powerful brave shades, as well as various textures are available.
5. Wallpaper a Cloakroom Style Bathroom Space
This is an area to be brave, one of the best ways to mask a small bathroom is to create interest by adding an impressive wallpaper.
6. Smart Storage Solutions 
Take advantage of the space in compact bathrooms and choose a large tallboy unit that can be stored up to the ceiling. Select a mirrored unit that gives a compact bathroom the illusion of space.