When designing your bathroom, it can be tempting to stick to one style, yet you don't have to do this. It is easier than you think to combine traditional and contemporary styles and make for a brilliant finish to any bathroom design. Here are just a few ways that traditional can meet contemporary in your bathroom.
Find your balance
It is important to find the right balance between classic and contemporary, and you don't want to mix too many styles together. Choose between the 50s, 60s, or Victorian and then mix it with more modern and minimalist elements. Decide if you want the style to be serene, vibrant, or more fresh and work to put together different elements and accents that will work together. Be sure you have a clear style idea in mind before you begin – it is a good idea to create a moodboard so you can see how well things will go together.
Utilise Marble
Marble is making a comeback, and it can work perfectly when mixing traditional and contemporary elements in your space. Some key marble colours are white, grey, and red. Marble is an easy way to add in natural elements to your space. You can use marble for your floor, walls, and countertops alongside wooden elements for a truly beautiful and luxurious space. You don't have to make your whole room marble, as that can be a bit of overkill, instead combine it with natural wooden elements for a tactile and beautiful combination.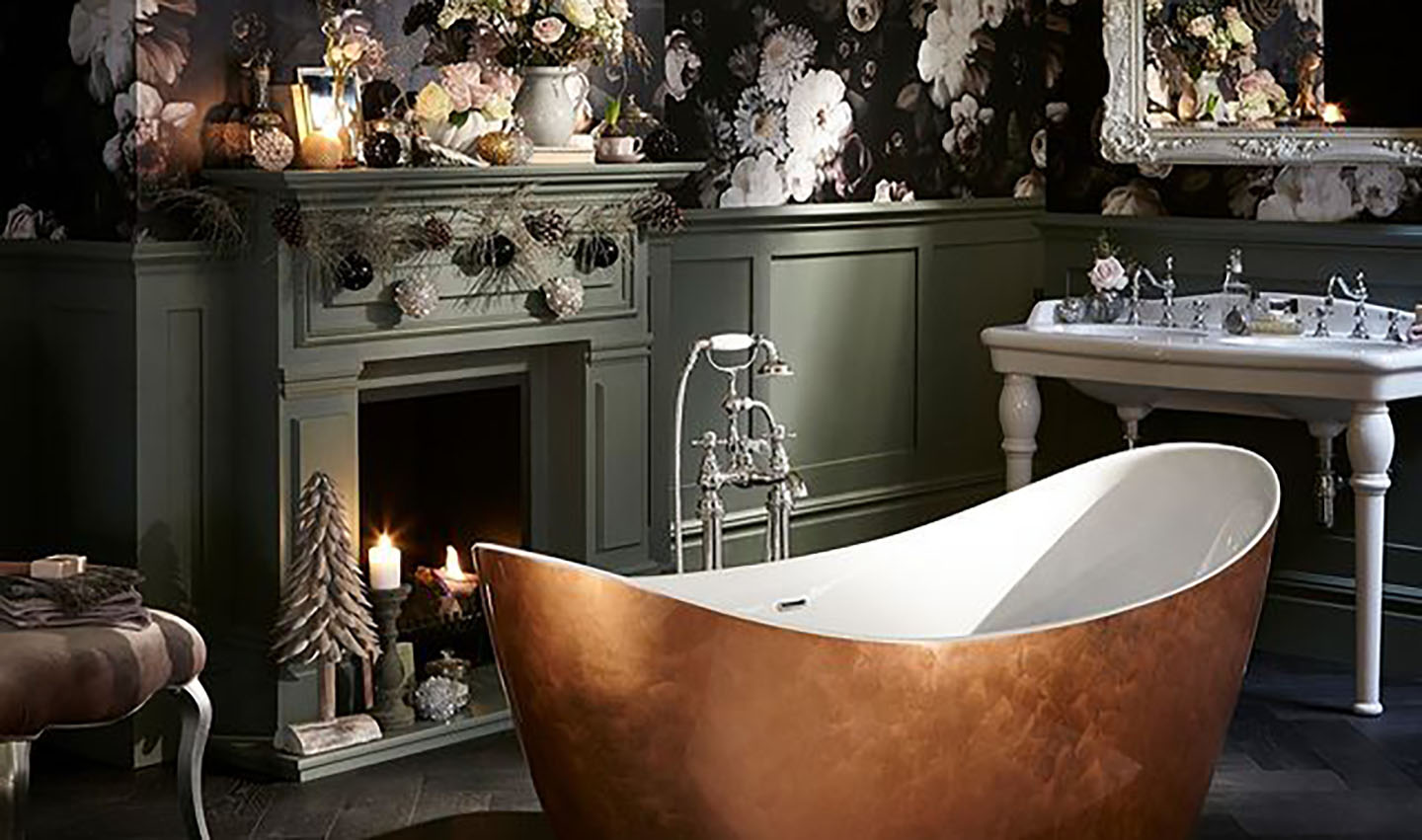 Play around with materials
Mix together different materials for a traditional and contemporary blend. This requires a very detailed approach, and if you put traditional materials such as wood together with contemporary chrome and glass, you will have a great blended effect. You don't have to use real wood if you don't fancy it; even materials decorated like wood can have the same effect. You could also add in copper-look nuances such as to your pipes or taps that further enhance the effect.
Add retro tiles with modern nuances
There are a myriad of retro style bathroom tiles out there, and when added to a contemporary bathroom, it is a great way to combine contemporary and traditional style. If you get some rustic style bathroom tiles, it is best not to add them to the whole room. Instead, perhaps tile the floor, splashback or just a certain area in the bathroom. This way, they are more of an accent, so they have an impact without being too over the top.
Bathroom Accessories
Accessories are a good way to blend together traditional and contemporary in your bathroom. There are many accessories you can use, such as vintage-style lighting, old glass jars for storage, and rustic shelving. When this is paired with modern style decor, it can create a very sleek and stylish look for your bathroom.
These are a few of the ways that you can mix traditional and contemporary in your bathroom. Try to make mood boards or Pinterest boards before you begin so you can try out how colours and bathroom design elements work together to create the perfect bespoke bathroom for you.