Some stunning tile trends have emerged in 2022. 
We've been inspired by our time indoors and our desire to reconnect with nature in a variety of ways, from seamless living to bringing the outdoors in. As an escape from the outside world, we're looking to rich, luxurious hues, bold patterns, and warm, welcoming spaces.
Terrazzo is back! 
Terrazzo is making a comeback and is increasing in popularity among trendsetters due to its modern, artisan appeal. Its light-hearted playfulness, the set, repetitive chip pattern of terrazzo can be found adorning a wide range of furniture and homeware products, bringing an element of youthful fun into interior design schemes.
Terrazzo looks great with matt, muted pinks, or burnt orange tones for a modern, comfortable, liveable look. 
Give green a go!
Green is the colour of life, renewal, nature, and energy, and it is quickly becoming a major trend in all aspects of interior design. 
Green tiles can have a variety of looks depending on the style and shade. Light green tiles have a cool, fresh appearance that contributes to the creation of a calm and soothing environment, whereas deeper greens are bold and intriguing – ideal for creating a bold splashback or eye-catching feature wall.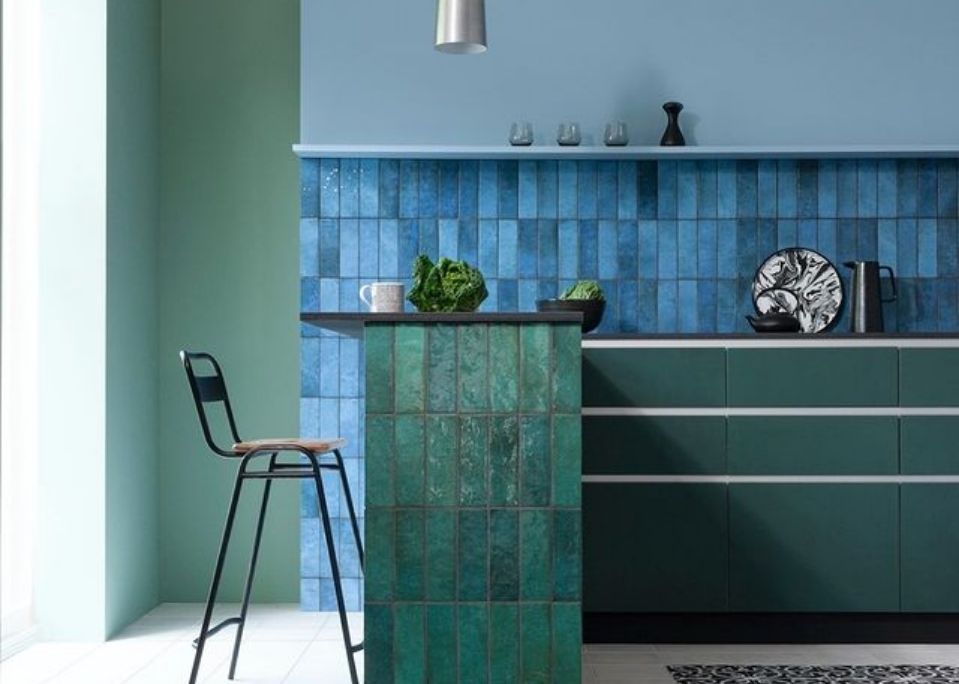 Bold patterns!
As the popularity of patterned tiles continues to surge, be sure to include this trend in your upcoming bathroom transformation. Patterned tiles work as a great splashback in small space bathrooms as well as full wall features in large-scale bathroom projects. This style offers homeowners the opportunity to tap into their creative side!  Right now we mainly see ceramic tiles as a popular choice for patterned tiles, however, porcelain styles are an upcoming patterned tile concept. This year, expect to see a range of bright and bold colours and patterns!
Be brave with blue!
Deep blue tiles will add a timeless look to your interiors. These moody hues, which are rich and indulgent, give any room a luxurious and expensive feel. The deep colour contrasts brilliantly with lighter tones to create a chic, modern look.