Hygge (pronounced "hue-guh") is an idea that has long been ingrained in Danish society. We spend so much of our time indoors, Hygge focuses on the cosiness of home and becomes increasingly popular as the seasons change. Hygge, the Danish concept of cosiness, comprises much more than just that. It's all about taking your time and savouring the little things in life. If you want to be happier, we recommend incorporating elements of Hygge into your bathroom design. Let's take a look at the essential design aspects that can assist you in creating a Hygge-inspired space, from shower doors to lighting.
Mood Lighting
Lighting is a key hygge principle. The harsh overhead lighting in bathrooms can make them look drab. Soft lighting will help you keep your retreat spotless. It is possible to create a well-lit space without relying on a single bright light by using multiple light sources. Wall lighting fixtures over the vanity and on either side of the shower are excellent options. 
Also, now is the perfect time to get out your candle collection. When you wake up in the morning and when you go to bed at night, light a few to provide a soft glow. Make your choice of cologne or perfume based on how strong the scent will be on you. 
To celebrate the concept of creating Hygge in the bathroom, we are delighted to be collaborating with Mullan Lighting and offering our customers an exclusive
10% Discount code when using code 'BASSETTS' at checkout!
Clutter-Free
It's possible that as you get used to your hygge-inspired bathroom, it will fill up with clutter. Don't forget to throw away any empty bottles or products that you no longer use on a regular basis. Clean-lined storage and shower bars will help you maintain your minimalist aesthetic while also helping you stay organised. Consider a vanity unit with drawers and in-drawer dividers to ensure your space is clean and clutter-free!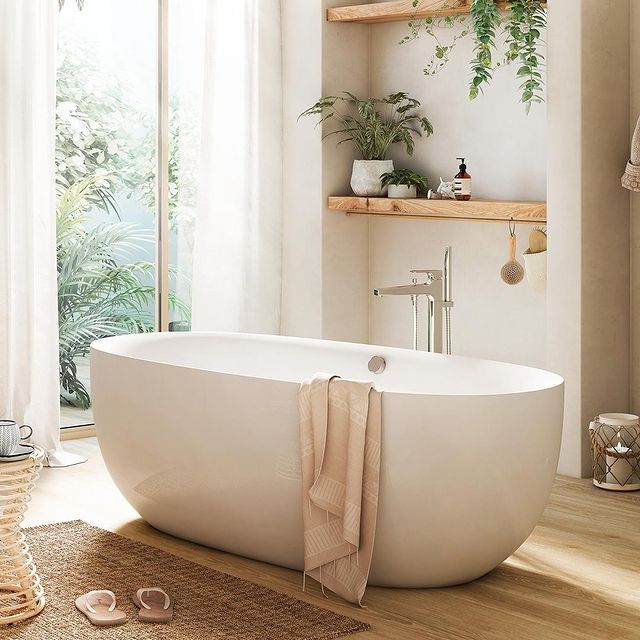 Add Greenery
Plants add the finishing touch to any room in your home. It has also been scientifically proven that adding indoor plants to the home helps reduce stress. However, if you are stressed about keeping your plants alive don't be afraid to go faux!
Mixed Textures 
Mixing textures can make all the difference when creating your Hygge inspired bathroom. Try mixing your textures from the walls to the fabrics to turn a usually clinical space in your home into a cosy room so sit back and unwind. Opt for thick luxurious towels, bath mats and robes. Sinking into a super soft towel and lavish robe after a relaxing shower is what Hygge is all about.