Traditionally bathroom furniture tends to be white or lighter tones. From tiles to baths, these softer colours have often been favoured.
But if everything is the same colour (or similar tones), the room can end up feeling a little bare. By adding even just a splash of colour, you can instantly transform your bathroom into an inviting, cosy and enjoyable space.
Of course, you can go one step further and choose to renovate your whole bathroom, brightening up the place as you go. It really depends on your own personal taste and style.
But whatever you decide to do, a little inspiration is always helpful. So we thought we'd share some fun ways you can incorporate colour into your bathroom this year. Check them out below.
Choose an accent wall
If you opt for lighter shades on the floor and walls, you could then choose to have an accent wall as well to add a pop of colour and a focal point to the room.
Choosing this style gives you loads of great options. You could use tiles, paint or even wallpaper to add a bit of colour.
Best of all, this style works whether you have a large or small space and can be the perfect way to draw the eye.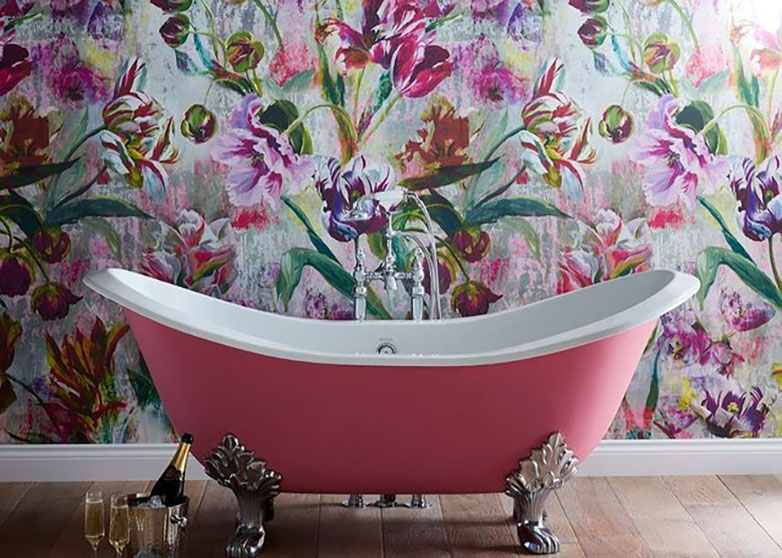 Elevate the ceiling with paint
It's not just the walls you can paint either, you could also think about painting your ceiling too. This can be a great way to elevate the space and make the room feel bigger.
This makes it the ideal solution for smaller bathrooms, though larger bathrooms can still look great with a bit of ceiling decoration.
Opt for bright flooring
Moving from the ceiling to the floor, you might consider colourful flooring instead. This could be tiles or vinyl, as these come in a huge range of colours and patterns.
Better still, in most cases, you can buy this flooring on a budget and lay it yourself, so they can be a great way to save money whilst still transforming your bathroom.
Or, if you don't have the time or money to redo the whole floor, even just a large bathroom-friendly rug can instantly add some colour and make the room feel warmer.
Include a border
Even if you decide to use lighter or more neutral shades for the majority of the space, adding a border to your walls can be all it takes to beautifully incorporate some colour.
Whether tiles, wallpaper or if you're a really skilled artist, paint, you can create some wonderful effects with borders running around the entire room.
Break up the space with colourful wet room panels
If you have a large corner shower or wet room, or you intend to add one to your bathroom, make the most of this feature with some unique wall panels.
Use these as colourful shower walls to draw the eye and make the area stand out. Having a sleek glass screen also helps to protect the space but ensures you can still see your decorative tiles or panels from outside and looks great.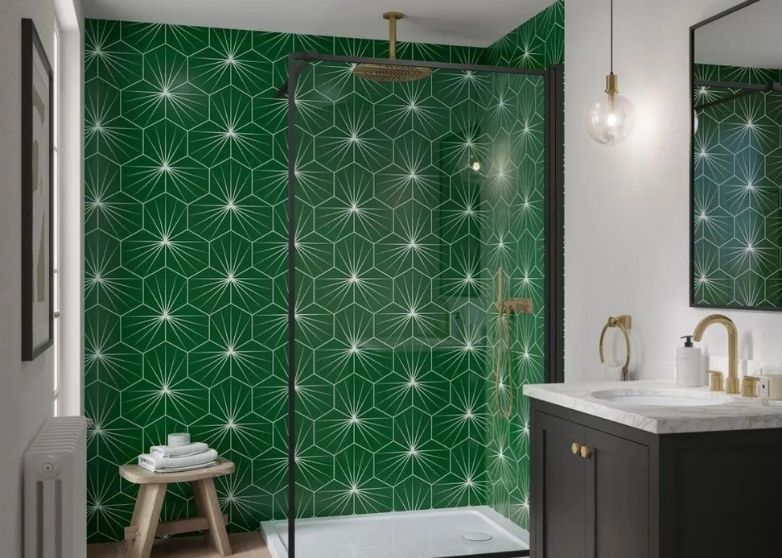 Add some wall art
Adding some art or photographs is a great way to add colour and also put your personal touch on the room.
There are plenty of striking graphic prints and paintings you can buy online. Alternatively, you could choose a photo you love or one you've taken yourself to have printed.
Plus, you can put these in an interesting or colourful frame for a decorative finish. This can be a really simple but effective way to spruce up your bathroom without having to repaint or make any big changes.
Think about the fixtures and fittings
When redecorating or refurbishing your bathroom, even the smallest details can make all the difference, like finding fixtures and fittings to compliment your bathroom suite. For example, you could replace the handles on your cabinets and doors, as well as your taps on the sink or bath and the flush on your toilet.
As these fixtures can be a little more expensive to replace, be sure to choose something you will love for years to come, so you don't have to replace them often, something timeless like chrome or brass.
Go green with houseplants
Another wonderfully simple but effective way to incorporate colour into your space is using houseplants. For one thing, they thrive in warm, damp conditions, making them ideal for the bathroom.
But more than this, you can choose beautiful plants that add texture as well as colour. Not to mention they can actually be beneficial for your mental well-being, bringing nature inside.
For the bathroom think aloe vera, ferns, lilies, bamboo, ivy or orchids. You could put these on the windowsill or shelves or you could even choose hanging plants like spider plants.
Just make sure that whatever you choose, they have enough light to thrive.
Be smart with your tiles
If tiling the whole bathroom will be too expensive or too much work, you can still use this technique to add some colour.
Instead of doing all of the walls, pick a design or colour you love and have this as a splashback behind your sink. Not only does this incorporate colour and show off your personal style, but it also helps to protect the wall and paintwork from water damage.
Choose colourful soft furnishing and accessories
Finally, the accessories and soft furnishing you have in your bathroom are one of the quickest, simplest and most affordable ways to transform the space and incorporate colour.
When we talk about soft furnishings we are referring to items like rugs, towels, shower curtains, bath mats and blinds. Even if you opt for really simple and neutral colours on the floor and walls, these can instantly add a splash of colour.
Just make sure that any soft furnishings you choose are durable or waterproof wherever required. And the good news is, these can easily be switched to move with changing styles and tastes.
Lastly, decorative accessories like candles, vases, organisers, soap dishes, toothbrush holders and other storage solutions look great on your shelves, windowsill and sink. Plus, these are such an easy and budget-friendly way to show off your style, whilst also being practical and making the space more usable.